When it comes to pinpoint accurate and precise cutting method, then CNC plasma cutter is the equipment you need right away.
It is the process which cuts a big broad steel sheet at different places and according to your need very precisely and lastly, the whole operation is made on a table.
The plasma cutting torch lies on a hand controlled through a computer. But how does the term CNC come? You'll get to know in the section after this.
What is CNC?
CNC is the abbreviated form of the term "Computer numerical control".
If you are to cut a big steel sheet, that is obviously conductive, then all you need to do is to put the sheet on a table.
Above that table, there is a torch hooked on movable arms that can move both vertically and horizontally.
Attached to that table, there is a plasma cutting computer equipped with associated software.
Through that computer, you can program the ways and thickness to cut the steel sheet accordingly.
That is why the term CNC- Computer Numerical Control is used.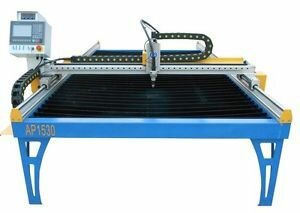 You can put the steel cutting thickness in amount, the length and breadth of cutting, the no of pieces you need through symmetrical cutting etc.
In a single sentence, it can be said that you can get each and every pieces you wish for through a CNC plasma cutter.
This is why CNC compatible plasma cutter can certainly be regarded as a best plasma cutter.
Modern CNC plasma cutter
Nowadays, there are CNC plasma cutters that can take steels sheets for 3-axis cutting.
You can even take care of complex welding situations very easily and without any touch of your hands.
Moreover, CNC plasma cutters not only cut materials but they also monitor their health.
These machines can monitor cutting temperature, slag amount and severity etc.
Moreover, they can also cool the specimen down through another added option like flowing cold smog or throwing water and draining.
Different models for CNC plasma cutting
Nowadays, there are different companies that are manufacturing highly technical and updated cnc plasma cutters.
3 of the best available models in the world market are PM1000, PM2000, and PM4000.
To make the full plasma cutter package, you'll need to add different sized and compatible table.
However, some of the technical terms that you need to know before buying a new one are stated below-
1. PM1000 CNC plasma cutter
This is the lowest graded plasma cutter in the CNC series yet highly powerful.
This product can take steels sheets of great thickness.
This CNC plasma cutter can effectively cut materials like aluminum, brass, copper, mild steel, stainless steel and many more.
However, you can set the heating level according to your purpose.
If you like to have a steel sheet cut into pieces disregarding the sharpness of edge, then you can cut steel sheets thick up to 25 mm.
But if you intend to cut steel sheets and have smooth edges, then you can take steels up to 16mm thick.
As a high end machine, not only this machine, but all of the cnc plasma cutters do work only in 3-phase power, not single phase.
It works at the current level of 27 ampere, consumes wattage of 27kw, and works at the input voltage of 380 volts (3-phase).
After the plasma cutting, this product also provides air cooling for the specimen worked.
As this product cuts steel of great thickness, it must have a greater plasma arc and must also be stronger.
Yes, it literally is! The plasma power is triggered through full bridged IGBT inverter module.
With this plasma cutter machine, you'll need compatible tables on which you'll cut the steel sheets.
The best compatible plasma cutting tables with this cutter are PM100A1313H, PM100A50150H, PM100A1325H, PM100A1632H etc.
2. PM2000 CNC plasma cutter
The PM2000 CNC plasma cutter is a bit higher in specification than the previous model, thus it is also powerful than the previous one.
It has a maximum separation thickness of about 35mm; this is the limit of steel sheet thickness which, if you need, can cut disregarding the edge smoothness.
But if you like to cut steel sheets precisely without any slag, then you have to bear steel sheets only thick up to 28mm.
The output current to the steel sheet is adjustable within the range 40-180 amps.
It produces high heat on the specimen at the cutting edge after the plasma cutting, therefore, this product uses water cooling after plasma works.
The best compatible tables with the plasma cutting machines are PM200A1313H, PM200A1325H, PM200A1632H, PM200A50150H etc.
3. PM4000 cnc plasma cutter
Disregarding all the models behind, the PM4000 plasma cutter machine is a massive one.
You certainly can describe it as the best plasma cutter because it has a set of features that are best for industrial use.
Both mild and stainless sheets of steel, brass, copper, aluminum panes etc and many more conductive metals can easily be cut through this best plasma cutter.
It has a maximum separation thickness of steels up to 65mm and maximum smooth cutting thickness of 40mm.
In electrical terms, this product runs on only 3-phase electrical power with an input voltage of 380 VAC.
Generally, three phase voltages are readily available in industries and therefore, it has been made purely industrial.
It consumes about 73Kw and works with at about 110amperes through the completed circuit through the working specimen.
The plasma arc produced at the torch end is highly proactive and powerful.
The CNC plasma cutter controls the plasma arc through the full bridged IGBT inverter module and that is the main reason why the arc is the best for steel sheet cutting.
The plasma torch gives the plasma arc at the pressure of 0.4-0.6 MPa. This is high enough for fast, sharp and proactive cutting.
Due to the product is highly effective, it requires water cooling after plasma cutting work. The heat is high enough above the normal level.
Therefore, you need to flow water through the specimen to cool it down to normal temperature level.
There are different tables of different measurements.
The best compatible tables are- PM400A1313H, PM400A1325H, PM400A1632H, PM400A50150H etc.
These 3 products are much more than you think for an industry.
Steel cutting has nowadays been a thin task as the technology "CNC plasma cutter" has emerged.